Recently, a small piece of soap slipped down the drain of the tub and as small as that was, it caused a back-up of water. The water was draining out of the tub, but slowly. I contacted my brother, who is a plumber, and he got the job done. The water is now freely flowing down the drain.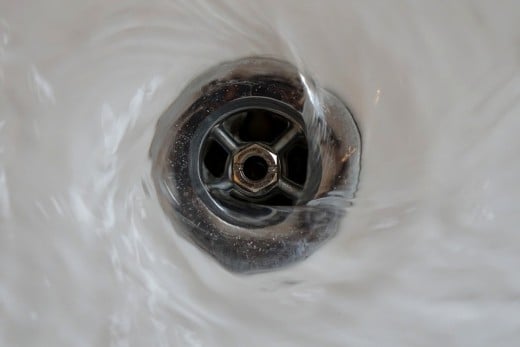 As I thought of that simple situation, my mind went on the fact that so many people sometimes have things which are blocking their freedom. You  haven't been able to get pass how offended you were when your colleague said something to you; you are still holding in a sibling for what he or she did when you were teens; when you hear the name of your college room mate, you want to roll your eyes; you have a problem with the mother who did not invite your child to her child's birthday party or maybe you aren't speaking to your neighbour based on an argument over his tree hanging over in your yard. There are a myriad of things which we not only allow to offend us, but we hold them in, allowing malice, hate, unforgiveness…to lodge in our spirits. When we do carry these negative vibes with us, it's less about the person and more about us, and where we are in our spiritual lives.
Back in the early 1990s when I was in college, there was a girl who I understood had something to say about me. I didn't like it one bit! Now, I was never a fighter and had no intention of fighting her, but I surely felt a burning desire to approach her about what I heard she had to say.
I had it all planned. I went as far as going on campus earlier than normal that morning because I knew where she hung out (under a particular tree) and I needed to tell her a piece of my mind. I – with my 110-lb frame back then – was going to fly some words in her face! Well, as per usual, she came walking towards the area with a friend of hers and I confronted her. After I told her my five cents, I walked off, feeling like a champion. I felt I let her know, "I don't play!" or in modern terms, it would be: "Stay in ya lane!"
Some four years later, I accepted Jesus Christ into my life as Lord and Saviour. I began to grow and change was taking place. Interestingly, about a year into my relationship with the Lord, I was about to go on a fast (it was not my first fast) and the Holy Spirit prompted me. I don't know why I wasn't prompted earlier, but God is an on-time God. He brought her face and name to my attention and I instantly knew he was directing me to deal with that matter from years prior.
At that point, I was working and I also knew where she worked, having seen her at that organization a few times. I put pride aside, called her and told her I wanted to apologize for the way I approached her that early morning, under the tree. Believe it or not, she was very receptive and we had a wonderful conversation. And even had she not accepted my apology, most important was to be obedient to the Holy Spirit. Pastor of In Touch Ministries, Charles Stanley, coined the phrase: "Obey God and leave the consequences to Him."
When I hung up following that conversation, I was FREE! It was a wonderful feeling and there is nothing like a clear conscious. Honestly, before the Holy Spirit prompted me, I didn't even think of that incident. When I would see her over the years, she was always far away in distance and we never had to interact. I didn't feel I was holding her in, but perhaps it needed to be cleared up because she might have been the one holding ME in. I don't know.
You see, the Bible states clearly in Matthew 5 verses 23 and 24:
"Therefore if thou bring thy gift to the altar, and there rememberest that thy brother hath ought against thee;

Leave there thy gift before the altar, and go thy way; first be reconciled to thy brother, and then come and offer thy gift."
God knew I had a situation that was not cleared up and it was time to address the matter. Why it took so long for me to be prompted – I don't know.
Honestly, I've had more than one experience like this. I even just had a situation last year, but it took a much shorter time to speak to the individual. In that case, I told her I was VERY HURT. I didn't even call her; I emailed. She was quite apologetic and I was finally able to move on because before that, just to see her, I would want to avoid her. In fact, I said that had the matter happened BEFORE my wedding, I would not have invited her. That's how affected I was. It bothered me greatly. I felt she crossed a line. She went too far. I felt I could no longer trust her – if she could go that far.
On the other hand, I've had situations where my conscience beat me up and I felt the need to apologize within minutes, hours or within a day or two. God is working on me people!
My prayer is that God will CLEAN ME UP in the name of Jesus because we serve a God who is very forgiving. And of course, we shouldn't allow people to walk all over us, but certainly, as Christians, we ought not to hold people in. God has called us to "put aside" bitterness, malice etc. (Ephesians 4:31). When we confess our sins, He is faithful and just to forgive us of our sins and to cleanse us of ALL unrighteousness (1 John 1:9)! PRAISE YE THE LORD!!!!
I encourage you to pray and ask God to reveal to you if there are any matters you need to clear up before man and Him. Today, I am more in tune with God, thank God, so to not deal with a matter when I am feeling condemned would be disobedience. The enemy wants to keep us trapped! However: Freedom is beautiful! Unshackle those chains TODAY in the name of Jesus!
Growing in Christ,
Hadassah